It's almost midnight! Good Morning :))
And I hope it remains a good one with my announcement! My Summer Giveaway is HERE! Yes, it totally is! The month of April is something I am looking forward to (Think: Officially summer) because aside from dad's birthday falling on this month, it's my boyfie's birth month. And because these men are special to me and my readers are special as well, I'm hosting this giveaway for approximately 22 days. Isn't it exciting?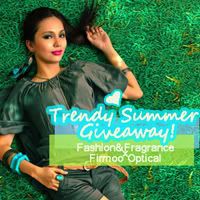 And now, on to the fabulous prize! Since April is the official start of summer, what better way to enjoy it than to protect our precious eyes from Mr Sun's overpowering heat in a stylish and fashionable way. I'll tell you how great this giveaway is! Twenty (20) winners get to bring home one (1) fabulous and stylish Wrap Around Sunglasses from Firmoo Optical! Yey! Thank you very much to Firmoo Optical for sponsoring the prizes! We'll be giving away 20 sunnies! For the designs of Wrap Around Glasses you can visit
Firmoo's Gallery.
Firmoo.com is the emerging global online optical store of prescription eyeglasses and prescription sunglasses. Years of expertise in optical industry enable Firmoo.com to offer varieties of prescription eyewear to the consuming public in high quality yet at extremely affordable prices. Their Wrap Around Sunglasses promise to protect the eyes from UV rays and with it's distinct shape, it's sure to secure the thin layer of skin around your eyes from the harmful effects of the sun. Their sunglasses not only exude fashionable style but also clings to your face thus avoiding your glasses from falling off.
Learn more about
Firmoo Optical
and the amazing products they offer!
Now on to the giveaway! ELIGIBILITY: Worldwide :) Officially ends on April 30, 2012, I will announce the winners the next day via my blog, twitter and facebook :)
For additional entries such as posting on Facebook, please include the link of this blogpost so your friends can be directed to this page and don't forget to tag Kai Fragrances and Firmoo Optical. :D
How to join? Deal with the Rafflecopter App below and follow the easy steps. Goodluck!
PLEASE MAKE SURE YOU COMPLETE THE TASKS BEFORE CLICKING "ENTER". OTHERWISE ENTRIES WILL BE INVALID :(
a Rafflecopter giveaway