Hola! I'm back for another blog post :> I've been scouting recently for bags that would capture my taste and my needs. I go for bags that are big and has lots of spaces and compartments because I tend to bring a lot of things with me when I leave the house. I simply cannot bring only my wallet and phone - I've tried this once and I ended up getting highly-stressed :<
So I found this lovely bag from
Korean-Fashion Wear
which has really unique features one of which is the quilted design. It also has three compartments, a magnetic lock and zipper closure plus it's large which makes it easier to stuff a lot of things! This bag is made of PVC leather in a really yummy color! :>
Of course, you might wonder whether the shop is legit and I say they are! Here is a short info about the online store.
Korean-Fashion Wear
is the leading online fashion wholesaler in providing Korean and Japanese-Inspired apparels and fashion wear. Their
distributor's business was founded in late 2007 and with reliable sources for fashion in Hong Kong, China, Korea. They are starting to grow their business presence in South East Asia, mainly in Singapore and, lately, in the Philippines. They take pride in the quality of products which are in top quality and trendy to cater the demands of the Singaporean Fashion market. And as a startup in Manila, they are bringing in premium items and export-quality fashionwear.
Now, back to the bag: Are you already in love with it? The bag costs
Php1,070.00
but I tell you, you can get it for free! Surprised? You can have it for free if you win my
"Bag That Prize"
giveaway that is! :> I would like to thank Korean-Fashion Wear for this amazing giveaway collaboration!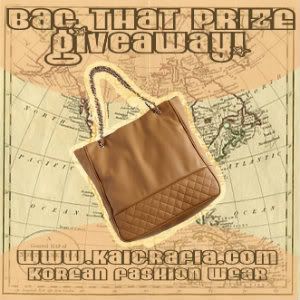 ♥
~Giveaway starts on May 11, 2012 (My sister's Bday!) and ends in exactly 2 weeks on June 01, 2012.
♥
~This giveaway is open to *Philippine Residents* only.
♥
~Deal with the Rafflecopter App to join! :> Please follow instructions! If you don't know how to get LINKS, please refer to my
Helpful Tips Post
.
♥
~Goodluck lovelies! :>